Sample Projects
This listing of projects represents creative work in film and video production, new media, and computing. Included are past projects, as well as current endeavors and ideas for future work.
MIT Media Lab
Ongoing
2004 — present

I use Adobe After Effects extensively for visual effects, compositing, and motion graphics work. Over time, I have developed a suite of plug-ins for AE as I have encountered the need for certain effects that could not be readily produced within the program. This suite of plug-ins includes image processing tools for chroma keying, compositing, cleaning up artifacts, color correction, and for integrating rendered 3D elements.
Video Poetry
2006 — present
Video Poetry is an effort to use cinematographic techniques, computer generated imagery, typography, and audio to creatively interpret and augment the experience of poetry.
Collaborator
Janice L. Dewey
Future Ideas
Virtual User Interface
The VUI project allows for novel human-computer interaction by using a real-time video stream for gestural user input. The visual field is divided into sensing regions that may or may not be registered with objects or interface representations in the physical environment allowing for scalable arbitrary spatial UIs. One goal is to leverage existing widely-accessible low-cost technologies, such as webcams, to facilitate deployment of application software to end users. Applications include practical context-specific user interfaces, gaming, interactive art installations, and performance art.

Virtual Musical Instruments
Currently under development, VMI is an implementation of an application of VUI that allows for the creation of music through gestural input, mapping musical features to spatial locations and hand gestures. A user can create music in real-time by gesturing in space in front of a VUI camera or by using a registered pattern, such as a printable paper piano keyboard.
Project Ganesha
This project seeks to create a software framework that mediates the representation of data. The framework is extensible and device- and representation-independent allowing for novel input and output in a multimedia and mutlimodal environment or distributed remote environments. Applications include unique user interface designs, collaborative platforms, and interactive art installations.
Mental Modeling

Given user-provided data or keywords harvested from online resources, this project seeks to create a hierarchical representation of abstract concepts that could represent a common cognitive model of objects and shared properties.
Previous
Name That Thing
2007

Name That Thing is a web-based game that explores the relationship of parts of an object in an image with a semantic class assigned to the whole object. The parent project, Pair, is part of research into word sense disambiguation using image data being conducted by the Computer Vision Group at the University of Cambridge Machine Intelligence Laboratory.
Individual Responsibilities
Develop and implement the web interface and back-end for the Name That Thing online game.
Principal Researcher
Matthew Johnson
2006

Created 3D animations featuring live-action compositing and interaction with virtual elements to illustrate the functioning and user operation of the Self-Service Automated Merchandising Machine under development by SSAMM, LLC.
Project Director
Michael Herskovitz
2000 — 2003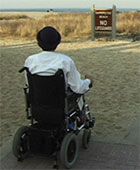 This documentary film provides look into the disabled life of writer Nancy Mairs, revealing the world she often contemplates in her published works. Nancy provokes, inspires, educates, and entertains through a series of video vignettes, readings, and personal interviews. In addition to personal and public screenings, the film is frequently screened for educational and informational purposes in the fields of disability studies and writing in schools and institutions throughout the country.
Individual Responsibilities
Worked with the director to develop the story-arc and message of the film. Shooting, editing, and motion graphics.
Collaborator
Janice L. Dewey
2002 — 2003



A fantasy musical film, The Scion tells the story of a young prince who recruits the assistance of three individuals in his quest to reclaim his throne, which had been usurped by his childhood friend turned evil.
Individual Responsibilities
Served as Visual Effects Artist for the production. Responsibilities included working with the Director, Director of Photography, and Art Director on design during pre-production. On set, assured that lighting and cinematography were appropriate for planned effects. In post-production, completed over 80 visual effects shots for the 28-minute production including virtual sets, digital matte paintings, 2D and 3D effects elements, match moving, compositing, crowd duplication, day-for-night, and color correction and grading.
Collaborators
Roy Wageman, Eugene Adams, Emily Ralph, et al
2003

Set in Gammon's Gulch, The Littlest Cowboy is a comedic Western short film.
Individual Responsibilities
Consulted on video technologies and cinematic technique for video production; color correction and grading of key scenes; title and motion graphic design and creation.
Filmmakers
Matthew Van Hoesen, Todd Sepp
2000 — 2003

The SVL, based on the Virage Video Logger and Application Server infrastructure, provides a resource by which students can access videos of university course lectures and other assets for enhanced out-of-classroom study and research. All assets are searchable by text transcriptions of speech within the video.

The framework of the SVL was incorporated into related projects. SVL Producer allows faculty and staff to edit and distribute sequences of streaming video clips from the SVL. Sequences may be shared with group members, e-mailed, or posted on course webpages.
Created metadata schema for representing archived assets in physical and virtual video libraries.
Individual Responsibilities
Created and refined web interface to better suit student use. Developed a framework for integrating SVL content and functionality into third-party websites for community organizations and individual university courses. Generated and logged content. Automated routine maintainance processes.
Collaborator
Jeff Imig
1999 — 2003

VALA is a research and development initiative to create online tools that facilitate inquiry-driven teaching strategies through the creation, organization, and deployment of reusable learning objects.
Individual Responsibilities
Integration of VALA with other University resources. Production of informational videos. Content creation.
Collaborators
Jim Austin, Frances Himes, Deborah Longanecker, Jim Reynaert, Jeff Imig, Mike Martelle, et al
2003

Winner of the Third Annual Interactive Multimedia Festival sponsored by the University of Arizona Multimedia Users Group in the Conceptual Art category.
Viewers should learn to navigate the web site on theit own. There are loops, however. This project allows the user to explore a virtual space created with QTVRs, images, and the browser itself. The emphasis is on navigation. More specifically, it relies on the user's discovery of unique navigational cues while experiencing the isolated frustration of a dream-like space. The project gradually, almost invisibly, pulls the user into the space as he/she progresses, only to slowly emerge at the end.
To experience the entire site: Click on any of the images or QTVRs in the tryptics on the first five and seventh pages. Be sure to explore the QTVRs and mouse over the foot images. Follow the hotspots in the darker hallways on the sixth and eight pages (taking the wrong hallway will move the user back a few pages). Watch the remainder of the site.
Note: It is recommended that JavaScript resizing of the browser window be enabled for the intended user experience. You will need to re-size your browser window after viewing this entry, if initially maximized.
Incitum Quietus
2002



This installation art project explores the formal property of motion as it relates to the motion-picture film. Contrary to the intent of traditional film production and exhibition, motion is all but eliminated from the images captured by the medium. It is then reintroduced during the viewing process by projecting images onto an organic and dynamic surface.
As presented, 16mm film images of still or extremely slow-motion subjects demonstrating gross forms were projected onto the underside of a canopy of leaves on a breezy evening. Beneath the canopy, a reflecting pool was constructed. Participants in the installation were invited to walk around the pool to view the projected image on its surface from arbitrary locations as well to introduce their own motion to the image by perturbing the water.
Individual Responsibilities
Conceived project concept, created partial project content, and prepared installation location.
Collaborators
Clayton Boen, Nipa Thakkar
2003 — 2004


A series of interactive web-based games were being developed to interpret philosophical concepts from short stories of Argentine writer Jorge Louis Borges. Borges is well known for crafting stories where form and meaning are interwoven into labyrinthine and cyclical experiences. The aim is to enable the user to interactively experience the unique narrative structures of the stories as well as the aspects of content. Theses games would have pedagogical and entertainment value.
Individual Responsibilities
Interpreted and developed interactive and visual representations of selected story concepts and created web-deliverable implementations.
Project Director
Pithamber Polsani
Our Realities
2003

This web installation project explores the concept of individual simultaneous realities that can occur within a single space. These realities are revealed by an omniscient VPU. As the user experiences the simultaneous realities, he or she creates a unique piece of art that represents the aggregate reality for the space, as influenced by the reality of the user. The "mosaic" image is related to the sequence in which the individuals' realities are viewed.
Individual Responsibilities
Developed and implemented the underlying concept of creating a virtual space or experience based upon the arbitrary interaction of the user.
Collaborators
Mike Bolton, Brandon Brewer, George Christodoulou, Kevin Crete, Wes Dixon, Nick Duddleston, Lucinda Fields, Aaron Holbrook, Matt Jackson, Edward Kim, Scott Malone, Justin Martinez, Traci Meyers, Matt Preis, Billie Jo Sanchez, Ryan Sweigard
Optical Sciences Learning Modules
2003
Created web-deliverable simulations of optical phenomena such as total internal refraction. These modules were utilized during in-class demonstrations and online learning exercises.
Project Director
Jennifer Franklin
e-mersion
2000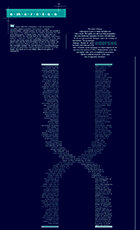 A discourse on multimedia technology and experience is dynamically formatted, blending elements of traditional typography in the creation of expressive forms and shapes.
1999 — 2000


Designed and developed a database-driven coursesite model for use by art education classes that allowed students to access relevant course information and share and critique artwork.
Project Director
Lynn Galbraith